Choose Modules
The Church Admin plugin is made up various modules, many of which are optional, shown in the Church Admin side menu.
In the Church Admin menu, under Settings, Choose Modules allows you to choose which optional modules you would like to use and display in your backend menu.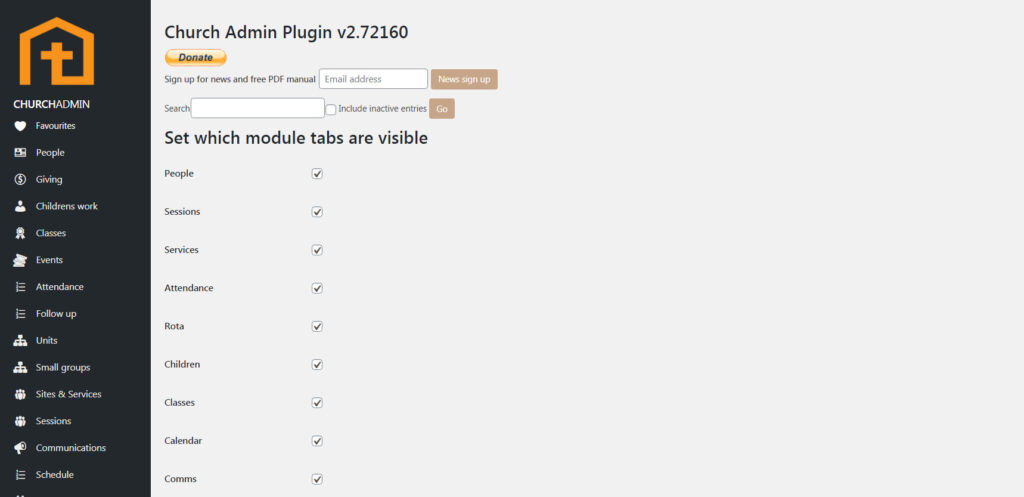 To choose modules, click to mark the box of the modules you would like to use. Leave the boxes empty that you do not want to use or to display in your backend Church Admin menu. Click Save to save changes.
To help you choose which modules to use, the follow is a list of brief descriptions of the modules.
People
In People tab:
You can import or add people to the directory. Of course, you can also edit or delete people.
You can view a map of where your people live.
You can view an address list of your directory.
You can Download, as a PDF or CSV file, your directory.
Assign follow-up actions under Recent People Activity.
You can add, edit, or delete Member Types.
Check for duplicates in the directory.
See upcoming birthdays.
Make everyone visible on the password protected address list.
Delete all people and start over
Sites & Services (Services)
Under Sites & Services:
Add, edit, or delete sites (church locations) and services (worship services).
Create calendar events for Service Pre-booking.
Sessions
Sessions is a prototype that is under development. As of now, it is unusable.
Attendance
Under Attendance:
You can track attendance for your services, groups or classes.
You can see a graphic of your average attendance.
Schedule (Rota)
Under Schedule:
Enter, edit, or delete your work schedules into Church Admin.
Send schedules manually or automatically (pre-programmed) to the people on the schedules by email or SMS.
Download your schedule(s) as a PDF or CSV file.
Children's Work (Children)
Under Childrens work:
You can add, edit or delete children's groups (for such groups as Sunday School Classes)
Export children's groups as a PDF.
Export a PDF of a check-in page for your children's group(s).
Classes
Under Classes:
You can add, edit or delete, classes, representing classes that your church provides.
You can view a graphic of class statistics.
Calendar
Under Calendar:
A calendar to display all your events.
Add, edit, and delete calendar events.
Display an event calendar for your church members to see.
Add, edit, or delete calendar categories.
Communications (Comms)
Under Communications:
You can sync with your Mailchimp account and send email/SMS from the plugin to the people in your directory.
Small groups (Groups)
Under Small groups:
Create, edit, or delete small groups.
You can add leaders and contact information to the small groups.
You can set up an oversight system for small groups.
See a map of your small groups.
See a list of your groups.

Media
Under Media:
Upload sermons as video or audio.
Create sermon series.
Link existing podcasts to your website.
A clean display of both sermons and podcasts.
Facilities
Under Facilites:
Another calendar, but for reserving facilites or for creating events you can book.
Add, edit, or delete facilities to reserve.
Ministries
Under Ministries:
Set up the various different ministries within your church and who is in them.
Set up oversight for your various ministries.
Allow online volunteering for your ministries.
Events
Under Events:
You can create events which your church members can register for online.
You can sell tickets online with the paid feature Paid Ticketing.
Units
Units is a prototype that is under development. As of now it is unusable.
Giving
Giving with Church Admin is a premium feature for those who have bought or subscribe to the Church Admin app. Outside of the giving module, there is more you can do with giving.
Under Giving:
Enter donations to keep track of money given.
Add, edit, or delete funds that people can give to.
Download your giving log as a CSV.
Download a Gift Aid Report as a CSV. (UK)