How to Add a Household
Households are a key feature of church admin.
For the Church Admin plugin, a household is defined as family unit based at a single address. But we would recommend you create a new household, even at the same address, when a teenager becomes an adult so that they have more control over their data. Every household or person you enter into Church Admin will appear on the address list, even if you have not added an address to their entry.
A household's data includes address, landline telephone number, and geolocation data. If you have a Google Map's API key set, then an exact map location can be saved.
There are two basic ways to fill your directory. You can either add households manually, or, if you already have a list of people and addresses, you can upload your church directory as a CSV.
To upload your church directory as a CSV view How to import your directory as a CSV.
If you choose to enter households manually, follow this simple process.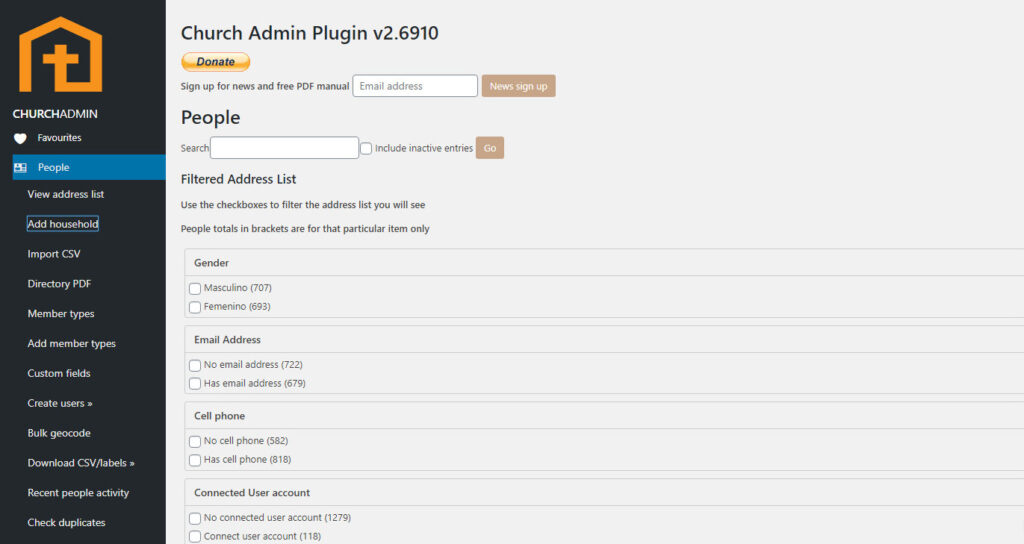 In the WordPress administration menu, click on the menu item Church Admin. Then, in the Church Admin menu, click on People. In the peole sub-menu click on Add household.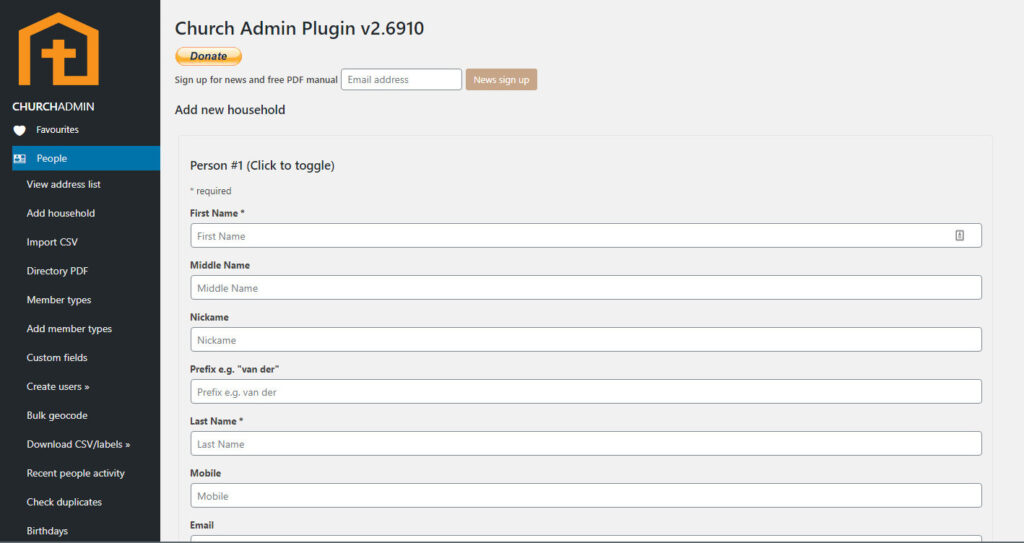 You will be presented with a form to fill out for an individual person. The form is made up of two parts – the personal details and the address details.
The standard name fields are first name and last name. (You can also have middle name, prefix and nickname fields. You can add those fields to the form in the General Settings page.)
Clicking on the Date of birth field brings up a nice calendar to choose the date.
Cellphone: a contact cellphone number.
Facebook username: this person's Facebook ID. A Facebook ID is the web address for your profile or page (example: Facebook.com/yourname). Only include the part after the forward slash (/).
Twitter username: this person's Twitter username.
Instagram username: your Instagram ID as with Facebook.
People type gives three options by default – Adult, Teenager and Child. If you would like to add more types, such as Retired or Seniors, go to People types under Church Admin Settings. To learn more, go to People Types.
Member Type allows selection of their member type. An example of some member types you could use would be: Pastor, Staff, Member, or Mailing list. To learn more, see Member Types.
Site: if you are a multi-site church, specify here which site this person pertains to.
Email: this person's email address. Having email addresses for your congregation is an important tool for communication.
Gender and Marital Status can also be set.
If you have set up classes, ministries, or small groups, check the boxes for whichever apply to this individual.
Before you finish, make sure to specify whether the person would like to receive SMS, email, and/or mail.
To continue adding people to the same household, click Add Person. To save, scroll to the bottom of the screen and click Save.
Once all the people for that household have been added, you can add the household address and home phone.
Tip: we recommend beginning by entering your pastors and staff, so that you can use some of the Church Admin functionalities without having to completely finish your church directory.