Setting up a Bulk SMS Service
With Church Admin, you can send SMS messages to all your members or to specific members.
If you plan on sending SMS messages in bulk, first there is some set up. First, go to SMS Settings under Communications in the Church Admin menu.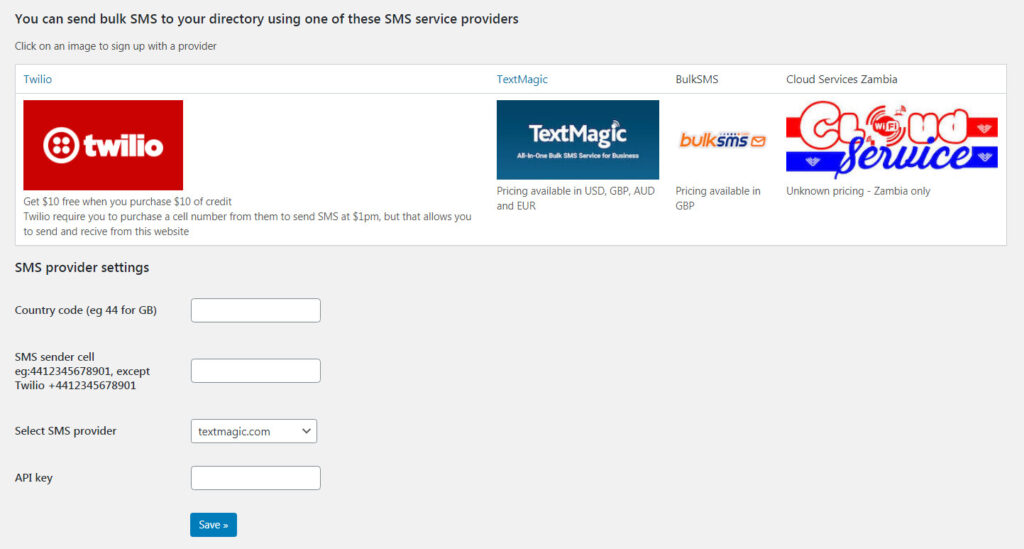 There are three options of SMS providers. You will have to set up an account with whichever of the SMS providers you choose and obtain an API key.
Then enter your country code and the phone number that you will use to send SMS. Select the provider you have chosen. Enter your Username and the API key you obtained from your SMS provider. Click Save. You're all ready to send SMS in bulk.
When you want to send bulk SMS, go to Send SMS in the Communications sub-menu in the Church Admin menu.
Write the text message you would like to send.
Choose recipients by entering the names of people in your address list, separated by commas or go through the filter options and click on the classifications you would like to include as the recipients of this text message. (If you don't choose recipients or use filters, everyone in your address list will receive the text message.)
At the bottom of the page, click Send Message.