Ministries
The Ministries feature allows you to set up the different departments or ministries within the church for use on the rota (schedule) and for communications. Some examples include Elders, Small Group Leaders, Sunday School Teachers, Pastors and Preachers.
You can find Ministries in the Church Admin menu near the bottom.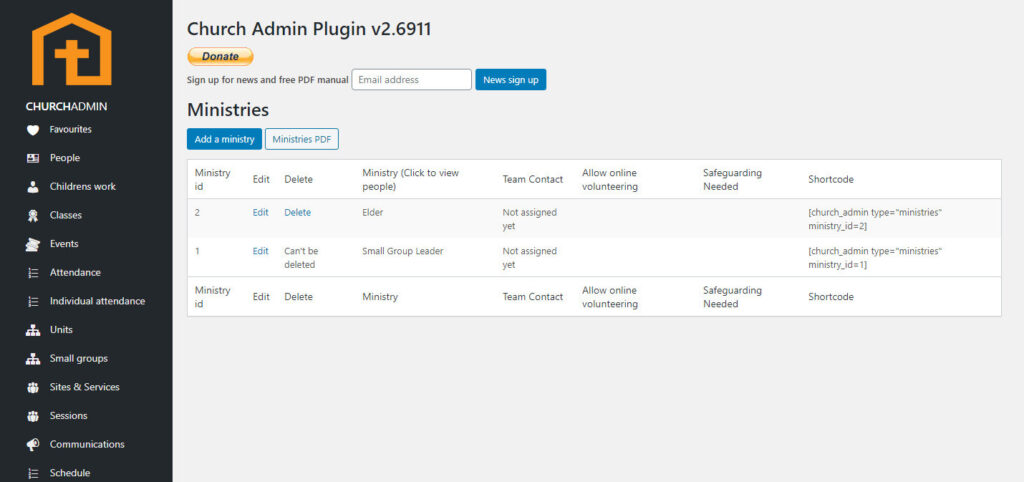 To get you started, the plugin has "Elder" and "Small Group leader" by default. You can remove "Elder" if you like and add whichever ministries your church has. Small Group leader, however, can't be deleted as it is vital for the Small Groups section.
To add a new ministry, click on Add a ministry.
First, enter the name of the ministry, eg. Staff, Security, Media.
Check the Online volunteer?? check box if you will be receiving volunteer applications online. You can view online volunteer applications by clicking on the sub-menu item Volunteers under Ministries in the Church Admin menu.
Check the Safeguarded needed? check box when you're ministry requires safeguarding rules to be applied because it deals with children or vulnerable adults. You will want to track the legal ability of all volunteers, for safeguarded ministries, to work with children and/or vulnerable adults. To learn more about safeguarding see; About Safeguarding.
A Parent Ministry is a ministry that oversees another ministry. For example Pastors could be assigned as the parent ministry to Staff. If you would like to assign a Parent ministry to the ministry you are adding, you have two options.
If you the ministry you want to choose as your parent ministry has not yet been created, write the name of the parent ministry in the text field provided. Upon saving, a ministry will be automatically created for the parent ministry you just entered.
If you have already created the ministry but wish to assign it as a parent ministry select it from the drop-down menu.
Below Or choose a parent ministry is a space for you to enter the names of people in your data base that serve in the ministry you are adding.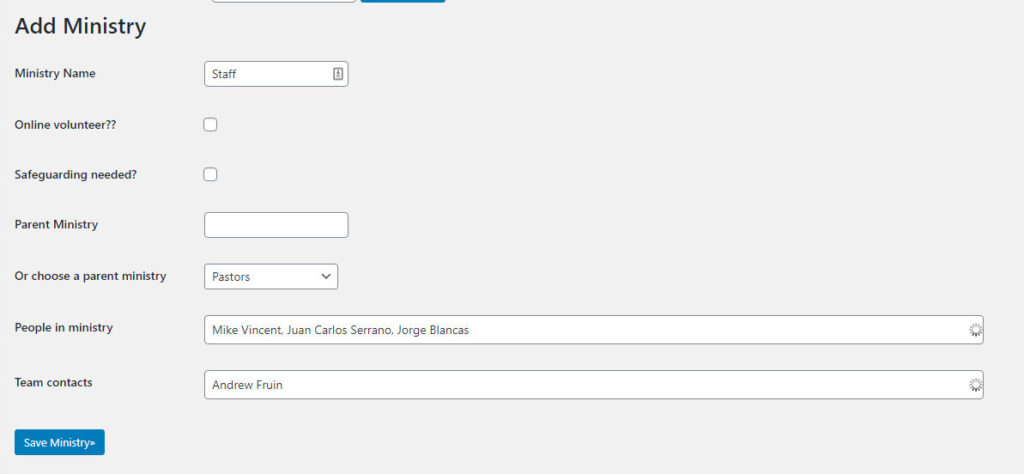 You can choose to leave this space blank if you would like. You can also add people to a ministry by editing their entry and marking the checkbox for one or more ministries that the person is involved with.
Right under People in ministry you can add Team contacts. Someone who handles communication for that ministry or oversees it.
Click Save Ministry to finish!
To edit or delete a ministry, return to Ministries in the Church Admin menu.