How to Edit Households
To edit a household, go to People in the Church Admin menu. At the top of the page, use the search engine to find the household you would like to edit.
The search results will display in a list alphabetically by name.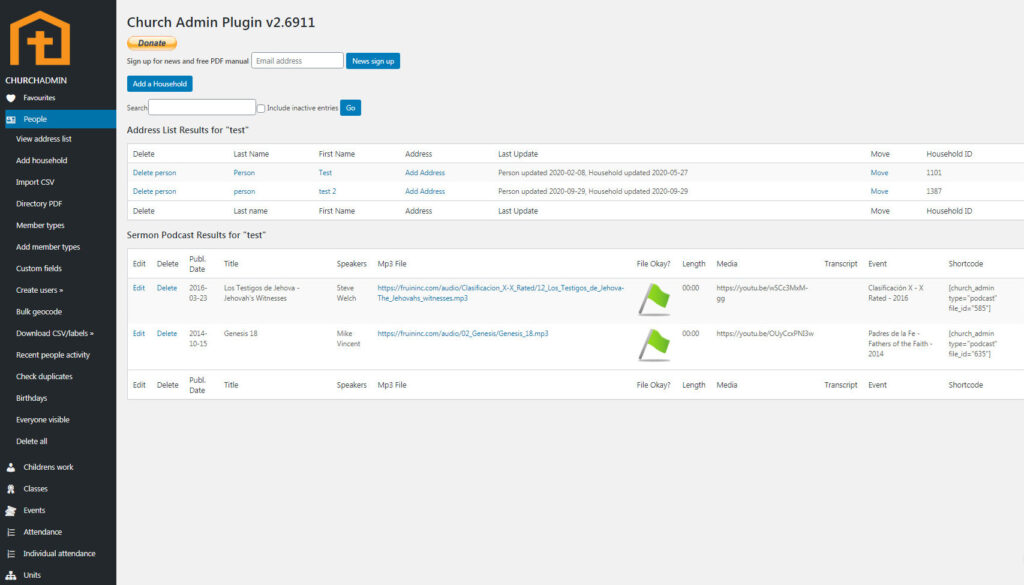 Click on the first name of the person to edit that individual person's details. To edit the household, click on the last name.
When you edit a household you will be presented with a list of the individual people in the household. For this example we have a single person with no other people in their household.
There are varias things you can do from here.
Does this person belong in a different household? On the right, under Move to different household is a button to do just that. Click on Move to reassign the person to another household.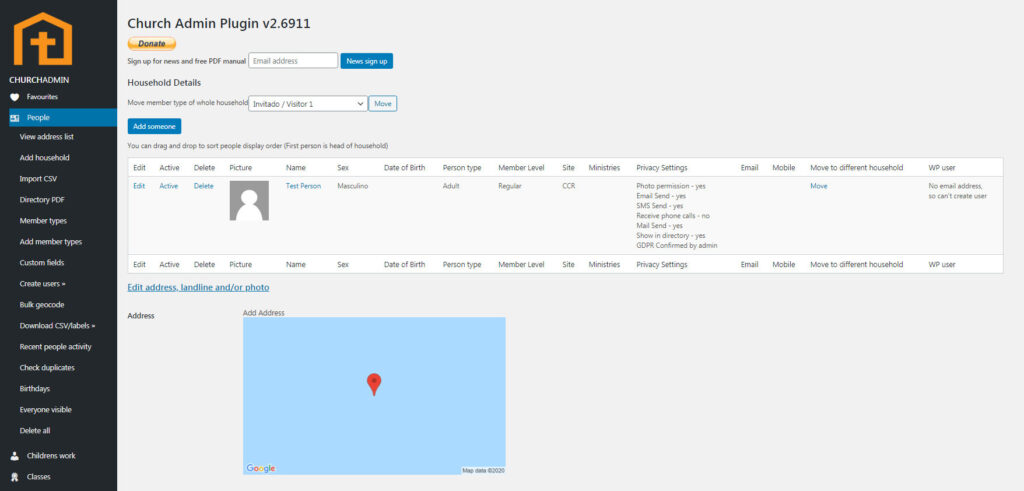 Select the correct household from the drop-down menu that appears.
When you have selected the household you would like to move this person into, click on the button Move person.
To create a new household for this person, click on Create a new household with the same address.
Just like that you have that person in their new household.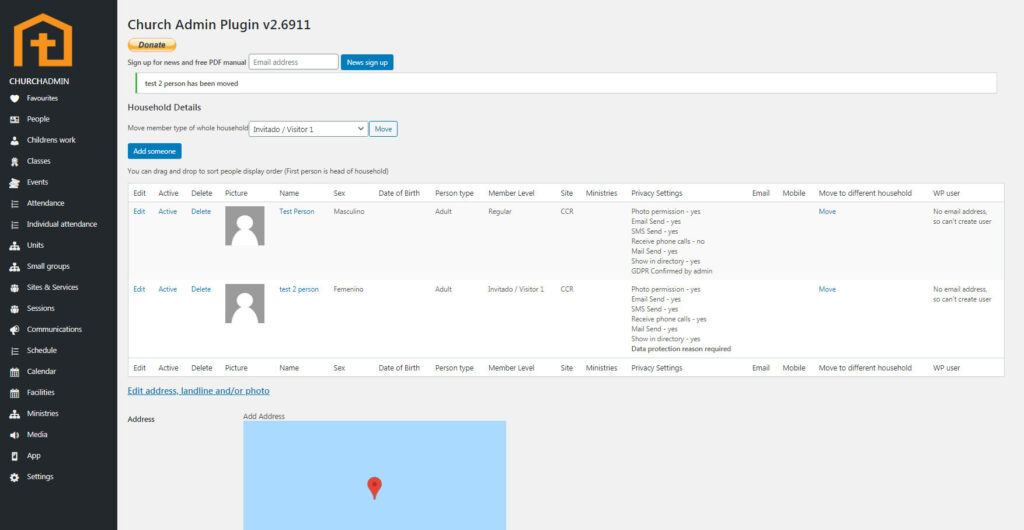 You can remove someone from a household by placing them into another household.
In Church Admin, every household has a "head of the household". This person is responsible for making sure that each member of their household over the age of sixteen is aware of and content with the information you have stored about them and establish whether or not they are willing to receive communication from you. Whoever is at the top of the listing of people in a household is the head of the household. You can assign a head of household by dragging and dropping.
To add someone to the household that doesn't already exist in the database, click on the button Add someone. Above the listing of household members.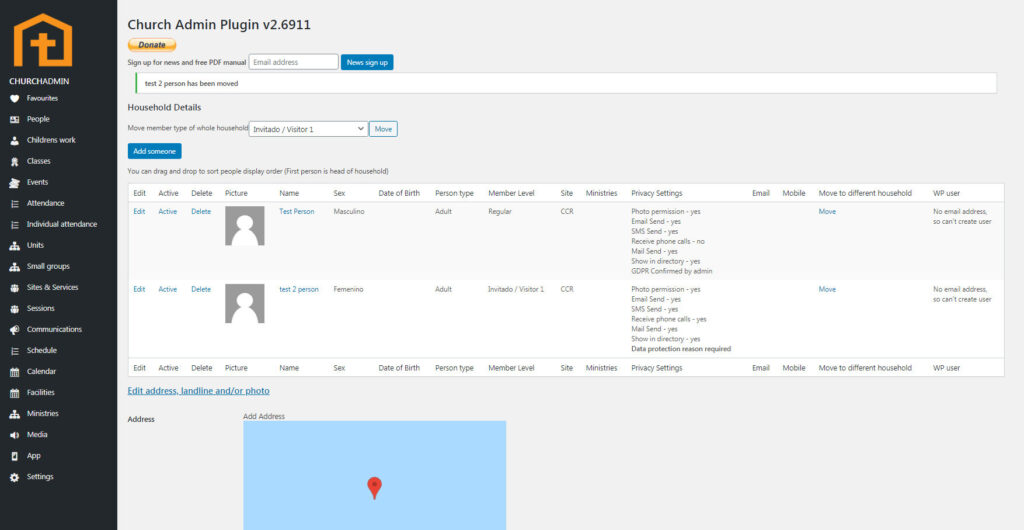 Delete a person by clicking on Delete to the left of their picture. This will delete the person from the Church Admin database, not only the household. If the person simply does not belong in the household, but does belong in the directory, click Move instead.
To edit the address, home phone number, or family photo, click on Edit address, landline and/or photo.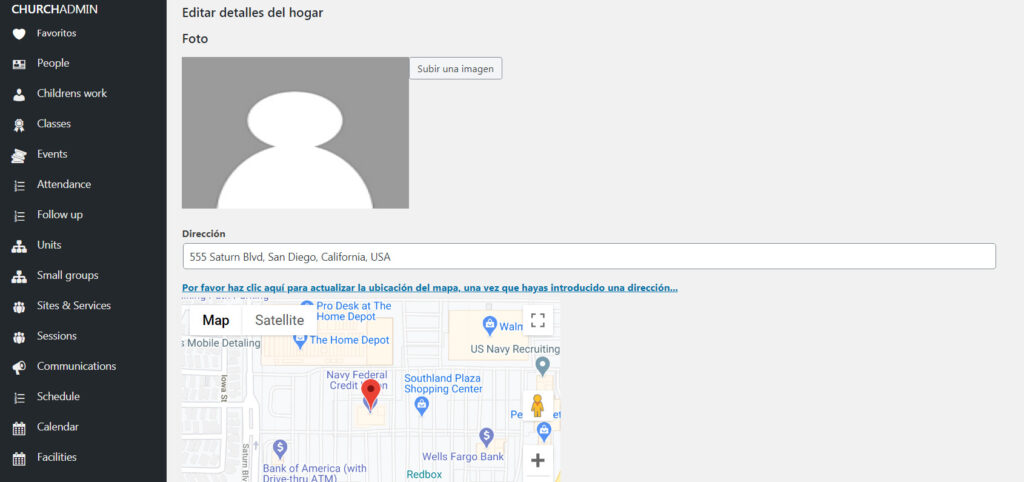 Click on Save address to save the address, home phone number, and/or family photo. You will be redirected to the list of people in the household.
When you have finished editing the household, scroll to the bottom of the page and click Save. You can come back to edit a household or person whenever and however many times you would like to.